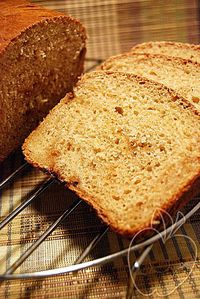 La versión en castellano está aquí.
Despite the very hot summer temperatures, we still eat bread at home, and of course, it's homemade bread. Last Friday, holiday day here in Catalonia, I was about to prepare a rustic bread for the weekend, but after all the "cocas" (kind of traditional catalan brioches typical of these days), we decided to go on with sweet flavours, included for bread.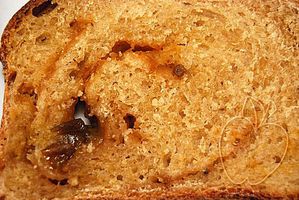 So I weighed all the ingredients and when I was about starting kneading, I hear:
«By the way, what are you going to prepare bread for BBD this month?».
My husband's question gave me a magical inspiration: «Bring me some plums and rosemary jam, the theme is bread with herbs.»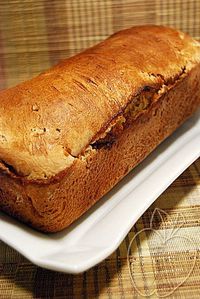 And here you are, a loaf of bread, crumbed and very fluffy and sweet but not too much. We liked its light flavor of rosemary and plums, its texture is almost like the texture of a brioche and with no butter or oil in it. It seems a rather light option for a tasty snack.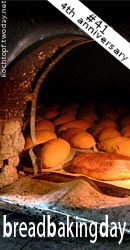 With this recipe I join the celebration of the 4 th anniversary of Bread Baking Day, thanking Zorra who created this great event and My discovery of bread, our hostess this month, her theme inspired us this wonderful, smelly and tasty bread!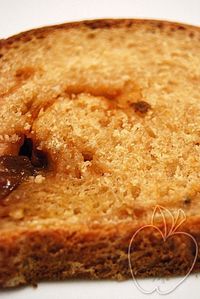 LOAF OF BREAD
WITH PLUMS AND ROSEMARY JAM
(USING SOURDOUGH)
Makes 2 loaves large right
250g sourdough active
500g milk (I used skimmed milk)
500g buckwheat flour
350g bread flour + a little to spread
150 + 150g plums and rosemary jam*
Vanilla 1teaspoon
Fine salt 1 teaspoon
A little neutral oil type sunflower to spread molds
Browning (optional) 1 tablespoon agave syrup + 1 tablespoon milk or beaten egg
Temperate milk and mix with sourdough until liquid and smooth.
Add 150g of jam and mix.
Add the 2 different flours with salt and vanilla and knead for a long time (10 minutes with a robot Kenwood: 2 minutes at min +  4 minutes at 1 and 4 more minutes at 2).
The dough must be very soft and elastic and must not stick to your fingers. You can add a little flour if dough is very sticky, especially when temperature is very hot.
When the dough looks nice, put it in a large bowl spread with a little oil, cover with a damp cloth (very important when it is hot to keep it wet) and we wait between 1 and 2 hours (the dough needs to double its volume).
We spread 2 large rectangular pans (like for plumcakes) with a bit of neutral oil type sunflower.
Sprinkle the kitchen table with some flour, and using your floured hands, form a rectangle with half of the dough.
Spread with 75g jam, making sure that does not reach the sides not to slip: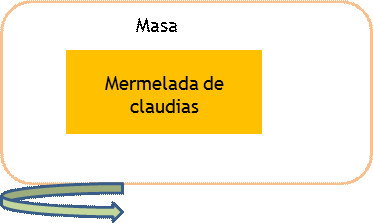 Then, carefully but without fear, roll the filled dough until having a rectangular shape: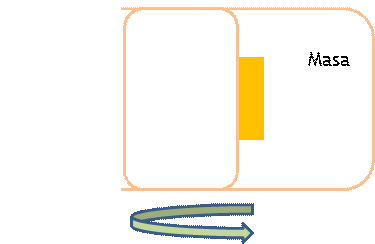 Put it in one of the molds and start over with the second bread: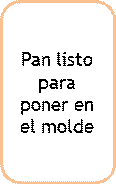 Cover with a damp cloth and let the loaves rise, 1 to 2 hours or until doubled in size.
Heat the oven 230 º.
Paint the loaves with milk mixed with agave syrup or beaten egg and bake for 40-45 minutes at 210 º (have to sound hollow if you knock them with a knife underneath).
We took them out of the mold and let cool on a wire rack before totally eating them!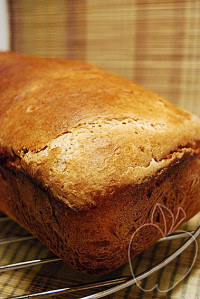 Bon profit!

Some useful information or not so useful
* Obviously you could use any jam, depending on our favourite flavors : o)