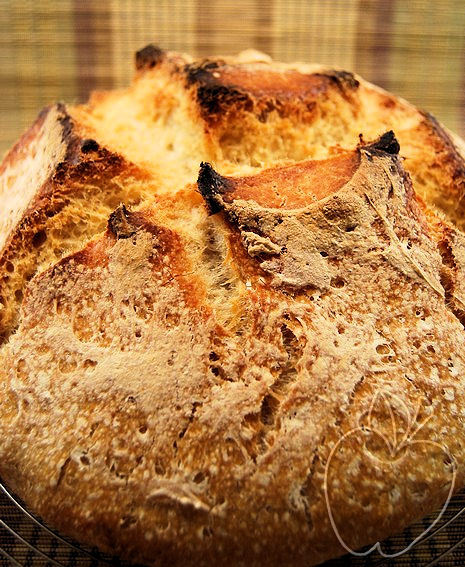 La receta en castellano está aquí.
Many already told me they were waiting for Italian recipes … Until I find a "nonna" (grandmother) to share her secrets with me, I'll occasionally share some things we've seen here and that we liked .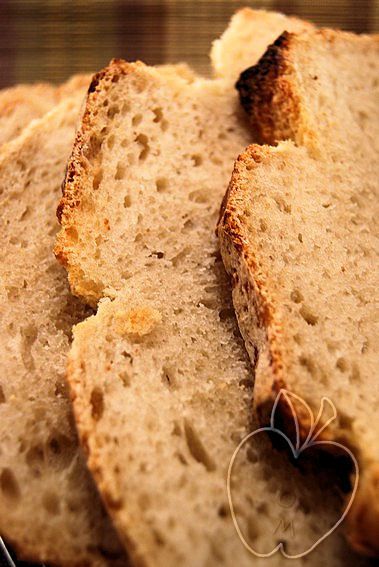 As kneading bread is my passion, I thought the best way going back to routine would be publishing some homemade bread.

This bread is one of the first stuff that we tried when we arrived in our new home. We were told at the bakery that it is a typical bread of Lombardy that is not prepared with wheat flour but with a mixture of flour and wheat semolina.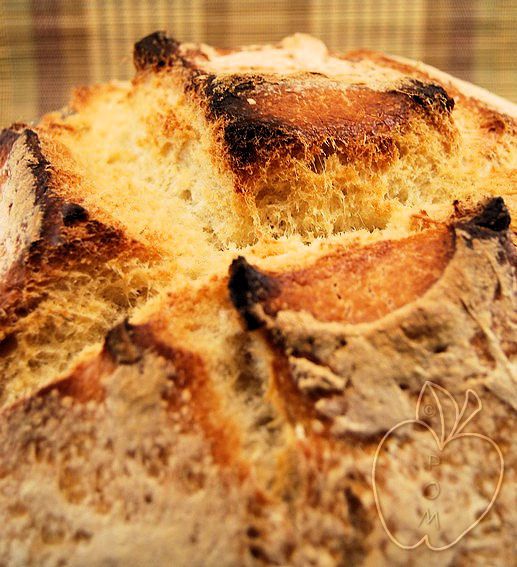 The semola is what is traditionally used for preparing homemade pasta. It looks like polenta in texture but is made ​​from wheat and not corn. Here it can be purchased in any supermarket and is very common and unexpensive.
For this bread, I did the 1-2-3 method, used sourdough, and cocotte cooking. The result was a spongy bread, golden crumbed and slightly moist, dense yet light, much like the bread we buy. Just perfect to spread with tomato and olive oil.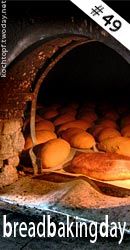 And speaking of returning to the routine, with this bread I join BBD # 49, created by Zorra and hosted this month by Manuela's blog Cravo e Canela- Uma Cozinha in Brazil, which invites us to cook some ¡ITALIAN bread!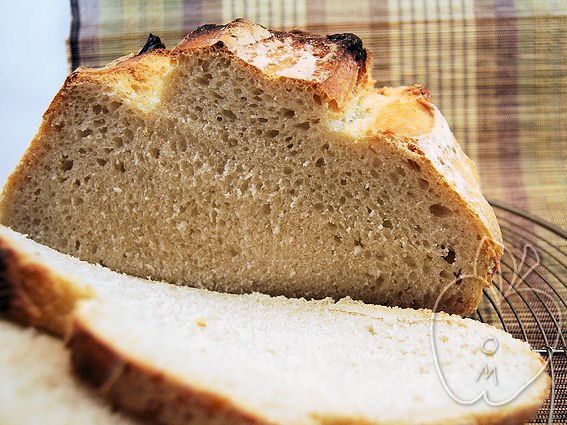 WHEAT SEMOLINA BREAD
(WITH SOURDOUGH)
for a big bread
250g sourdough active
500g warm water
500g semolina+ a little to spread
250g bread flour
Fine salt 1 teaspoon
Mix water and sourdough until liquid and smooth.
Add the semolina and flour and knead just enough not to see more flour. Cover and let it rest for 30 minutes.
Then knead very well the dough (using a robot Kenwood: 2 minutes at 1 + 2 minutes at 2 and 1 more minute at 3).
The dough must be very soft and elastic and must not stick to your fingers. You can add a little flour if dough is very sticky, especially when temperature is very hot.

When the dough looks nice, put it in a large bowl spread with a little oil, cover with a damp cloth (very important when it is hot to keep it wet) and we wait between 1 and 2 hours (the dough needs to double its volume).
Using a cocotte with a cover, shape your bread, put it in the cocotte and bake for 1 hour a 230º, starting in a cold oven.
Let cool on a rack and wait it cools before cutting.
Bon profit!